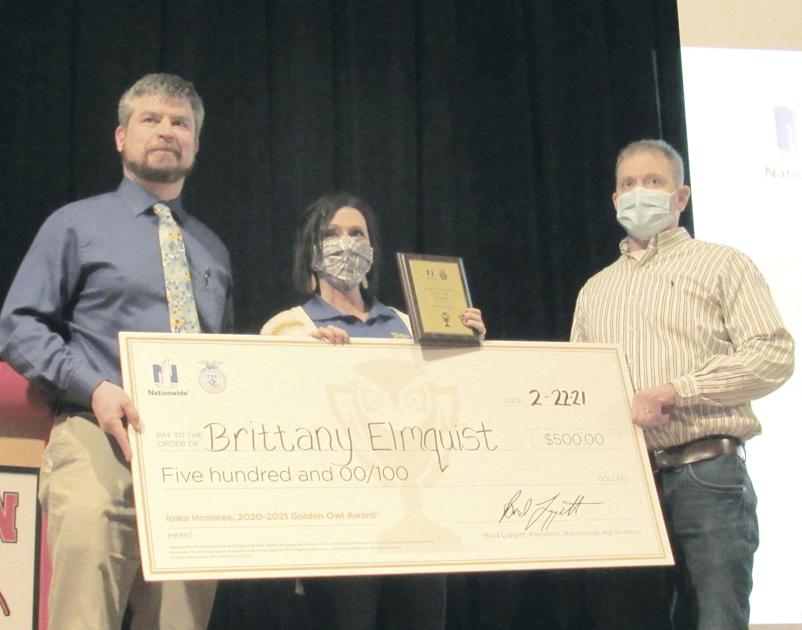 AUDUBON – Audubon students and staff, FFA members and FFA alumni as well as members of the community got together this week for a very special surprise: Brittany Elmquist, agricultural educator, was selected as a finalist for the Golden Owl Award.
Little did she know that the school meeting was all about her.
"I was really surprised at our 'COVID' gathering through my amazing chapter, officers, alumni chapter, administration, school, community and family," she said. "There are so many great teachers and counselors in agricultural education and FFA programs across Iowa." She admitted she was given a card that said she was nominated, but thought she was just one of many. That year there were 409 nominations for 241 different Iowa Ag teachers, so it was a complete surprise.
The Golden Owl Award is sponsored by Nationwide and Elmquist received a check for $ 500 along with a Golden Owl plaque. If she wins, she will receive an additional $ 3,000 to add new opportunities to her programs and students. Nationwide also donates $ 5,000 to the state FFA to further support the personal and professional growth of students, teachers, and counselors.
Elmquist took pride in how their FFA members were able to put the assembly schedule together without spoiling the surprise.
"I still have no words. I am humble and really grateful for this honor. Little did I know that the FFA officer team and chapter members along with many others have been working on this for months! " She said. "The number of nominations just shows how much we are part of a family in the Audubon community. It takes everyone to be on board to be successful – the students, their families, the administration, the school staff, the alumni, the companies … it takes a COMMUNITY, and that's exactly what we have. "