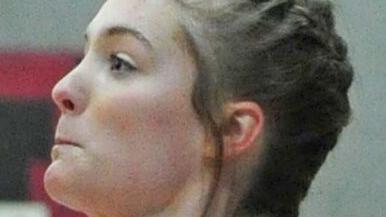 Olivia Ellis (23) of Bunker Hill shows a shot during the game against Draughn Tuesday in Claremont.
David Scearce / Record


MARK PARKER's record sports correspondent

CLAREMONT – Bunker Hill ran effortlessly across the floor in the girls' basketball game Northwestern Foothills 2A Conference Tuesday night. The Bears added a strong defensive effort in the second half to finish Draughn 76-45.
The Bears became the last undefeated team at the conference with 5-0, while Draughn suffered his first defeat 2-1.
Bunker Hill had four players in double digits on Tuesday but it was defense that kept coach Lee Swanson busy early in the game.
The bears did not follow until after the first basket of Ella Abernathy's game. Olivia Ellis (16 points) countered with a 3-pointer from the left arch and the bears were out and running. Addison Wray (26 points) used one dribble drive for a layup and Faith Isenhour (13 points) added two more – a drop pass to Camryn Bryant (11 points) for a layup and then her own bucket. Wray had a pair of free throws to make it 11-6, but Draughn caught the Bears flat on subsequent possession, resulting in a quick pass from Kaitlyn Kincaid to Shea Owens for a layup.
The game prompted Swanson to call for a time-out with targeted and direct instructions for the defensive ending.
Swanson admitted that having eight healthy bodies makes some things more difficult to work on in practice.
"It's really hard to push your kids," said Swanson. "Because six of them are playing difficult minutes. So you have to be careful. A bit of that has time to work with and a bit of it is that we're really good offensively so I think we get a bit of that, it's not that big a deal on defense. It may not be now, but it will be eventually. "