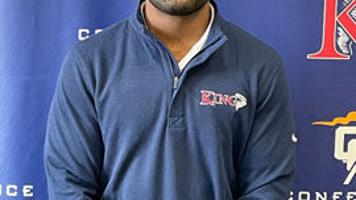 Deral Brown, King University's wrestling coach
BRIAN WOODSON / BRISTOL HERALD COURIER


BY BRIAN WOODSON BRISTOL HERALD COURIER

BRISTOL, Tenn. – Usually there is an abundance of matches to prepare the King University men's wrestling team for the postseason.
Not so in 2021. This is to ensure that the national championship event that was canceled last season can actually take place this time.
"Usually the boys have 20-25 games at this point in the season, but right now the boys are happy we're seven," said King head coach Deral Brown. "It was good because it was a surefire way for us to get a national championship on COVID.
"The NWCA met last summer and decided to recommend that we shorten the season and also get rid of the tournaments so that we have our best chances at this national tournament."
King, who is currently playing 3-4 games for the final regular season games at Queens University in Charlotte, is looking forward to the NCAA Division II Super Region II Championship in Franklin Springs, Georgia, scheduled for February 27th.
Two weeks later, the NCAA National Championships, which will take place at the America's Center in St. Louis.
The break between events is not a problem.
"It's a good thing," said Brown. "We're just a little bit beaten up. We'll be a lot of PT[Übungszeit]and just make sure we stay COVID free. "[Practicetime)andjustmakingsurethatwestayCOVIDfree"[practicetime)andjustmakingsurethatwestayCOVIDfree"