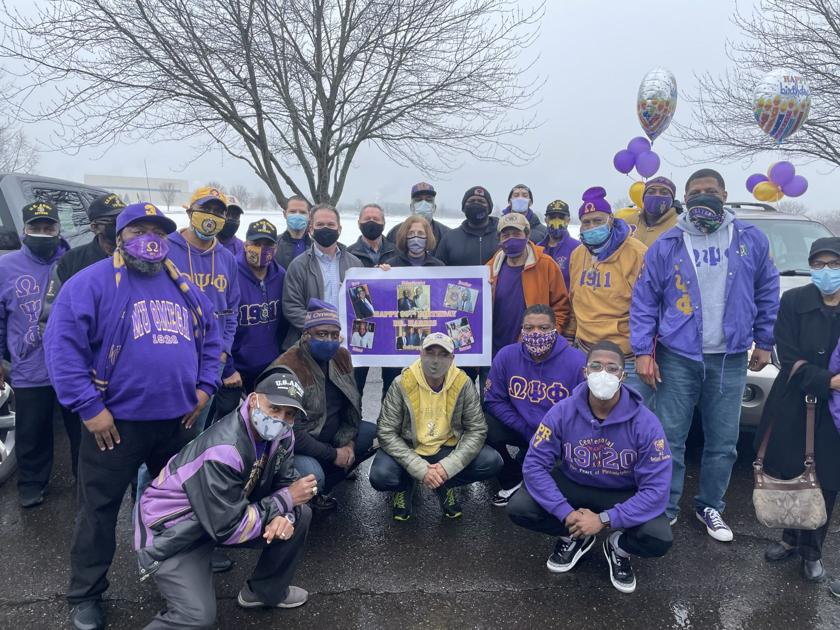 It's not too often that you get to celebrate your 99th birthday, but for William H. Harris, Ph.D., getting closer to the mark of the century is both a blessing and an opportunity for friends and family to show how very much they really love this giant of a man. On Saturday, February 27, 2021, Dr. Harris from his neighbors Fraternity Brothers and Hatfield Township a nice surprise with a drive-by birthday recognition.
About forty members of the Mu Omega chapter of the Omega Psi Phi Fraternity, Incorporated were led into a trailer by Hatfield Township's finest from both police and fire departments. Sirens wailed, lights flashed, and cars adorned with purple and gold balloons made their way to Dr. Harris' home in a quaint community in Hatfield. It all started at 11:00 a.m. with nearby neighbors coming out to make sure there was no emergency, but they soon realized the Omega Psi Phi brothers were coming to celebrate this momentous birthday of one of their Brotherhood brothers, the beloved Dr. Harris.
Planning for this event began three weeks earlier with a conversation between Dr. Allan Thomas (former Mu Omega Basileus) and Darryl Blackwell (Public Relations Director), who both agreed that the chapter should try to mark the day of Dr. To make Harris a little more special.
Additional assistance came from Isiah Myles, the Social Action Chairperson, who added this event to the Chapter's Project Uplift program to provide the necessary support to some of the Chapter's senior members, particularly during this current Covid-19 pandemic. The "QueVets" committee of the chapter (active / retired military veterans) that Dr. Harris was heard, was well represented, and American flags were supplied by QueVets co-chair Bill "Cabaret" Smith. Mrs. Judy Benson, the wife of David Benson, represented the Quettes (Wives & Sweethearts of Omega Men) along with Dr. Harris' lovely wife, Phyllis, who contributed to the surprise.
To Dr. To celebrate Harris's big birthday, Darryl Blackwell addressed the Philadelphia City Council and US Congressman Dwight Evans, both of whom sent messages of congratulations for the event. Brother Blackwell read Dr. Harris both the proclamations and the gathering of brothers and neighbors of the Brotherhood. Mr. Aaron Bibro, Hatfield Community Administrator, and Hatfield Police Chief William Tierney were both kind to arrange a police station and four escorts for fire trucks which no doubt alerted the entire community. The Hatfield Township Board of Commissioners plans to appoint Dr. To have Harris virtually attend his upcoming March meeting in order to recognize him with a proclamation, says Tom Zipfel (Chairman of the Board of Hatfield Township).
Dr. Harris is a World War II veteran who was honored with a purple heart for being wounded twice in combat. Dr. Harris went to school at West Virginia State University, where he was introduced to Omega Psi Phi Fraternity, Inc. by Theta Psi Chapter in 1944. Dr. Harris later earned a Ph.D. at Penn State University and has since contributed to various organizations as an organizational development expert. Dr. Harris also writes poetry and in 2017 published 90 years of his writing in a book called "Everyday Sunshine, Led My Way," a tribute to his mother, whom he calls his sunshine.
When asked what the secret of his long life was, Dr. Harris: "My mother used to stress me out asking questions and always showing gratitude, no matter how small the gesture." Harris continued to praise for all of his contributions not only to the Brotherhood but to the country itself. Hats off to you, Dr. Harris, and happy birthday!