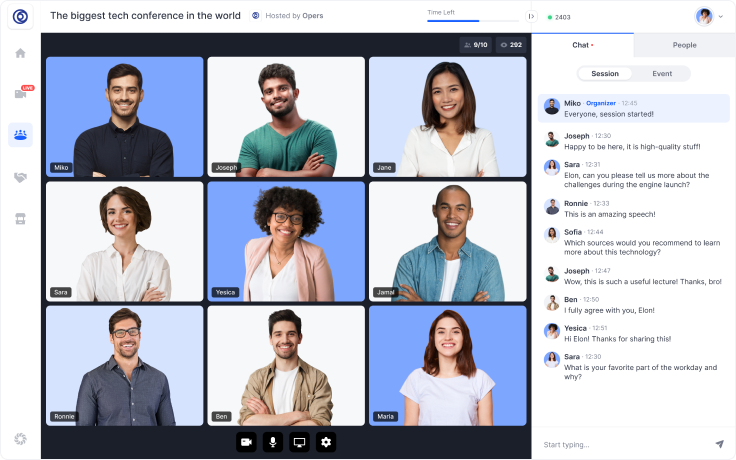 Virtual events platform startup Hopin Ltd. announced today that it has raised $ 400 million in new funds to accelerate growth, scale operations, and strengthen the team and platform.
The Series C round was led by Andreessen Horowitz and General Catalyst and included IVP, Coatue, DFJ Growth, Northzone, Salesforce Ventures and Tiger Global. The investment values ​​Hopin at $ 5.65 billion.
Hopin was founded in 2019 and offers an all-in-one platform for live online events that can be used to connect distributed communities. The company's platform differs from most other video conferencing services in that it was designed from the ground up to support conferencing, including managing stages, networks, breakout sessions, sponsors, tickets, and analytics.
With the ongoing COVID-19 pandemic, Hopin has thrived and the demand for virtual events has "exploded overnight," according to Johnny Boufarhat, co-founder and CEO of Hopin. The company started six months in early March and has grown in strength since then.
User numbers are impressive: more than 80,000 companies are now using Hopin, 3.6 million video content creators are using StreamYard, the company's live streaming platform, and millions are visiting and watching events hosted by Hopin every month. The company has grown from zero to $ 70 million in recurring annual revenue in the past 12 months.
It's not surprising that hopin's rapid growth has also piqued investor interest, although the intensity of that interest is striking. Last year Hopin raised $ 565 million in venture capital, including a $ 40 million round in June and $ 125 million in November, the latter at a valuation of $ 2 billion. New customers since the financing in November include HP Inc., American Express Co., Poshmark Inc. and the Financial Times.
Hopin intends to expand into related businesses. For example, StreamYard was acquired by Hopin in January for $ 250 million, while the company acquired the Topi mobile app for an undisclosed sum in December.
"We are now trying to expand into a multi-product company with a bigger mission to be the company that promotes accessibility in the workplace," Boufarhat told CNBC.
This rapid growth is also linked to the possibility of a future IPO or even a merger with a special purpose vehicle. Speaking to TechCrunch, Boufarhat said he was contacted regularly by SPACs. However, he currently plans to get Hopin operational next year, which means a possible IPO in 2022 or 2023.
Image: Hopin
Since you are here …
Show your support for our mission with our one-click subscription to our YouTube channel (below). The more subscribers we have, the more YouTube will suggest relevant business and new technology content to you. Many Thanks!
Support our mission: >>>>>> SUBSCRIBE NOW >>>>>> to our YouTube channel.
… We would also like to tell you about our mission and how you can help us fulfill it. SiliconANGLE Media Inc.'s business model is based on the intrinsic value of the content and not on advertising. Unlike many online publications, we don't have a paywall or banner ads as we want to keep our journalism open with no influence or need to follow traffic.The journalism, coverage and commentary on SiliconANGLE – along with live non-scripted videos from our Silicon Valley studio and global video teams from the cube – Take a lot of hard work, time, and money. In order to keep the quality high, sponsors must be supported who correspond to our vision of advertising-free journalistic content.
If you enjoy the coverage, video interviews, and other ad-free content here, please take a moment to review an example of the video content sponsored by our sponsors. tweet your supportand keep coming back to SiliconANGLE.