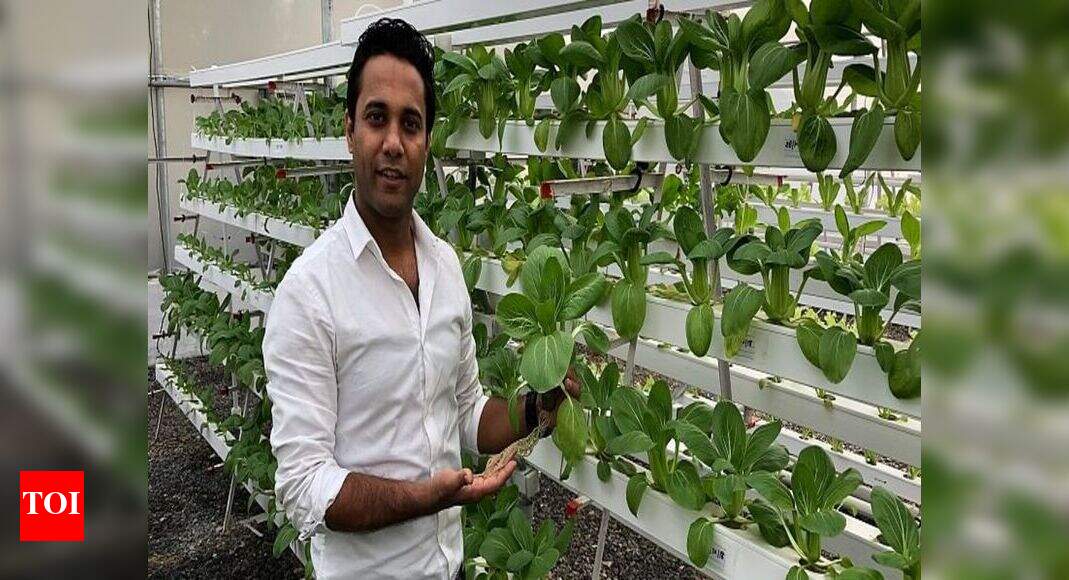 (Photo credit: Shivendra Singh)
At a time when people are struggling to balance their busy lives and healthy living, urban farming methods are attracting great attention from urban populations. Urban Indians who are rapidly urbanizing have shown significant demand for nutritious and healthy foods. It is estimated that the Indian fresh produce market is expected to reach $ 10 billion by 2025. However, traditional agricultural techniques alone are not enough to meet this growing demand, which is a logical challenge for farmers to deliver high quality products in the allotted time and at a fair price.
With increasing demand, hydroponic farming technology is reaching a scale to meet the need for fresh produce in Indian cities. The high-tech technique of vertical agriculture addresses several challenges of traditional agriculture, such as the struggle for fertile land, water supply and high quality soils, etc. Hydroponic agriculture used technical and scientific methods to grow plants in mineral-rich water to produce a soilless culture promote.
The increased use of new age technologies such as artificial intelligence, machine learning and data is creating a new generation of urban farmers in cities.
In addition, the integration of technology into the implementation of hydroponic farms makes it easier to create a healthier and cleaner environment for current and future generations.
Hydroponic Home Kits – Integrating Technology into Urban Farming


Technology has made a significant contribution to the advancement of agriculture over the years. The agro technology industry encompasses technologies that help create new opportunities in food production. Some startups have now begun to roll out this technology to all users in urban areas.
The technology used in Hydroponic Home Kits helps save precious water. In addition, it also offers the benefit of a controlled growth system at home that enables the production of chemical and residue-free foods. The ergonomically designed home kits eliminate the risk of weeds taking over the yard. In addition, herbicides are not required for better plant growth. Additionally, plants will grow healthier in hydroponic home kits for nutritional and immunity benefits. It makes it easier for everyone in the family to grab vegetables and make their own salad.
Commercial hydroponic system


Hydroponic farm kits are an emerging concept that uses modern technology to increase the quality and quantity of fresh produce. Commercial urban farming systems are supported by extensive research and development that help farmers manage water, light, moisture and temperature. In addition, powerful data analytics and other intuitive technologies are used as specialized solutions to help farmers make strategic farm management decisions.
Cloud architecture and data analysis


The technology has made several breakthroughs in agriculture. Cloud computing is one of the most important components to control the effects of nature on products. Commercial farming hydroponic kits collect and analyze hundreds of data points for precise control of the taste, texture, and nutrition of indoor vegetables. These data points help adjust variables such as temperature and humidity to optimize crop yields. The timely and accurate processing of the data informs users in advance of changes in the environmental conditions so that they can take action in good time.
Use of artificial intelligence and IoT

Artificial intelligence and the Internet of Things offer several powerful advantages when it comes to optimizing assets. Hydroponic kits for commercial agriculture combine hardware setup and software tools to determine the growth path of plants. It works in two ways – a device that attaches to the leaves and stems of the plant and software that connects to the device and the computer. It informs the farmer when a particular plant needs nutrients or minerals. In addition, it collects important data on plant vitalities, pH values, light density, moisture, seed profiling and nutrient supply. The use of artificial intelligence in hydroponic agriculture is like a brain that intelligently eliminates human-oriented tasks.
Automated processing


The production of fresh, nutritious and large quantities of products requires high efficiency and precision. Technology-driven commercial farms are emerging through the use of artificial intelligence and the Internet of Things. These technologies play an important role in the automation and remote management of farm systems. With fully automated tasks, labor-intensive workload or human intervention is reduced, which brings time and cost efficiency in the entire process of urban farming.
Sum up


The production of fresh vegetables always kept the farmers physically tied to the farms. In addition, problems related to uncontrolled environmental conditions also pose hurdles for farmers and affect the quality and supply of products. Hydroponic technology solved a myriad of problems and created ample space in urban homes for automated soilless farms to be built. Close control of plant growth can effectively provide clean and nutritious food.
Written by Shivendra Singh, Founder, Barton Breeze, India's Fastest Growing Specialist in Commercial Hydroponic Farms