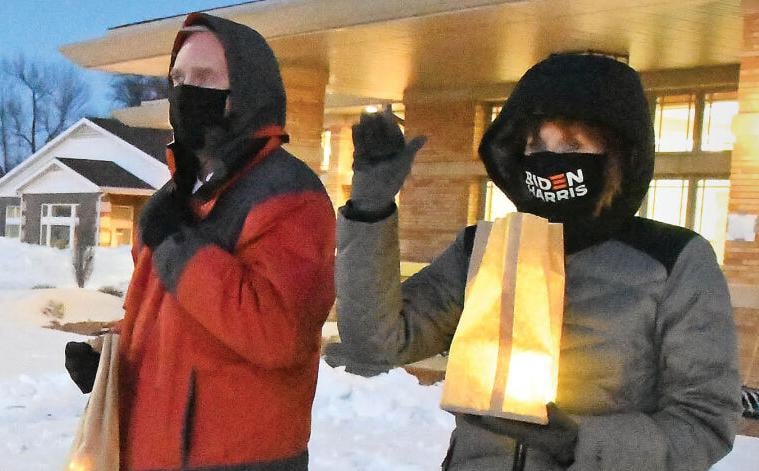 SHELDON – For O'Brien County Democrats chairwoman Karen Sterk of rural Sheldon, the inauguration of President Joe Biden and Vice President Kamala Harris was more than a day.
During the inauguration on Wednesday, January 20, Sterk and other O'Brien County Democrats attended events throughout the week.
To celebrate Martin Luther King Jr.'s National Day of Service on Monday, January 18, Sterk and others delivered baked goods for The Pride Group, a facility serving people with mental illness and disabilities east of Primghar.
"Before COVID, I went to Pride Group and held a Bible study. They loved it when we brought baked goods, "said Sterk. "They came to my mind on the day of service. I bet we had two or three large boxes of goodies – lots of cookies and things for them to enjoy. "
The event on Tuesday, January 19, was a nationwide tribute to the lives of victims of COVID-19. The Sioux County Democrats held a light vigil along Highway 75 outside the Sioux Center public library, and Sterk and others from the O'Brien County Democrats attended the event.
Wednesday was the main event, the inauguration of Biden and Harris. Sterk watched the inauguration and the rest of the TV specials from home all day.
Sterk met Biden at Mary Alice Campbell's in Sheldon when he ran for the second time for president in 2007. On Wednesday, January 20, Sterk watched as Biden was sworn in as the 46th President of the United States.
"It was fantastic. I enjoyed it so much. The inauguration was a happy time for me," said Sterk. "I have one of his books and he personally signed it. This is a cool keepsake now. I just have the feeling that God has prepared him all his life. It has just gotten to the point where he is the person we need in this office today. "
While Biden was the headline of the inauguration last Wednesday, history was made when Harris was sworn in not only as the first female vice president of the United States, but also as the first female African-American and Asian-American vice president.
Mary Helfter of Primghar, tech and social media chairman for the O'Brien County Democrats, said she smiled during most of the ceremony.
"She will contribute a lot to the decision-making process and be very prepared when she is asked to lead," said Helfter. "I think our younger people had to see that too. I feel very confident and proud and encouraged that the younger women and younger colored people see someone elevated into that position and say she is someone who looks like me. "
While it was a historic moment, Helfter knew she would see a vice president in her lifetime.
Harris wasn't the first woman to run for a big ticket as vice president. Geraldine Ferraro was on the Democrat ticket with Walter Mondale in 1984 and Sarah Palin ran on the Republican ticket with John McCain in 2008.
The Democrat Hillary Clinton ran unsuccessfully for president in 2016.
"If things had gone differently, we would have a president in 2016," said Nancy Peters, treasurer of O'Brien County in Sheldon. "We had other women on the Vice President ticket and I was hoping it would happen. I think they round off a ticket. This is an important step in building pathways for young women into the professional world. "
Peters said, Harris "seems like an inspiring person so I think she will continue to inspire our young women and girls. We all want our young girls and young women to progress. She will be a great role model. "
Sterk was impressed with the way the rest of the post-swearing inauguration ceremony went, from the poem "The Hill We Climb," written and read by 22-year-old Los Angeles-based Amanda Gorman, to the evening television broadcast.
"I liked how comprehensive these three days were. Not that you can cover all of them, but I think they did a pretty good job. Different ages, genders and everything seemed to be covered, "said Sterk. "To see three former presidents speak, what other country does that have? They all wish the new leader well. It was nice to see this part of America highlighted. "
For Peters, the inauguration last Wednesday was not only funny to look at, it also marks the hopeful next four years for them.
"I loved the concert that evening because it reached us all. We're never going to party in a ballroom so he came to us with a concert that was just really fun, "Peters said of Biden. "This is a president who promises transparency and opens a presidency that shows his honesty. Plus, he's just a personable person. "