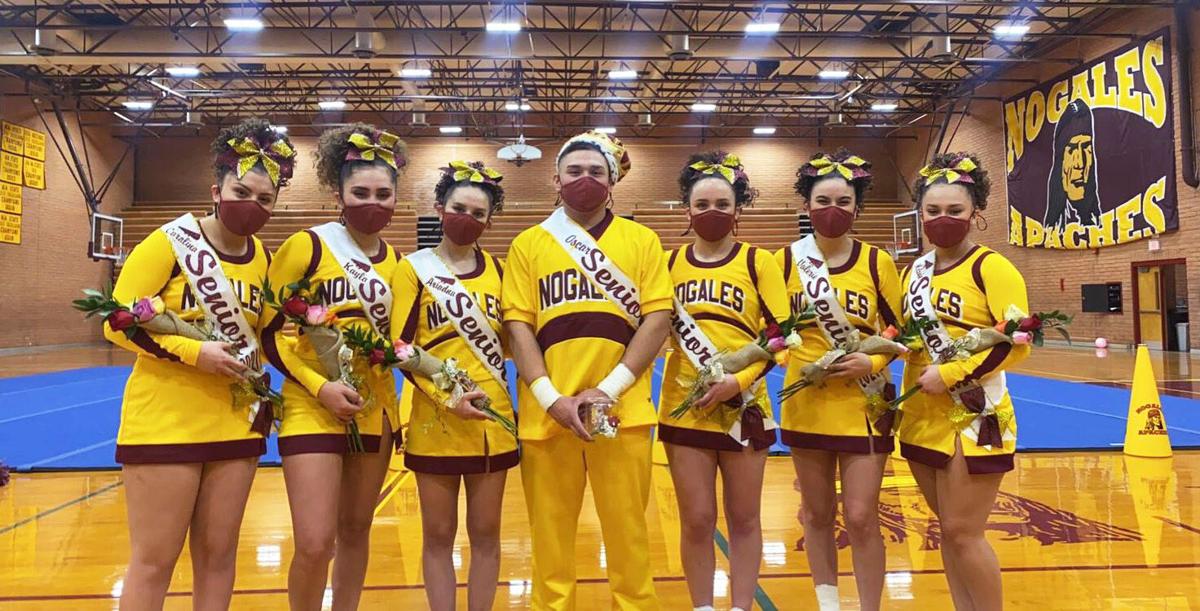 The Nogales High School stunt and cheer team received several top honors at the Arizona State Cheerleading Tournament in 2021, also known as the Pink State.
The Apaches were runner-up in the Varsity Coed Large category of Division 1-4, while the trio of Oscar Huerta, Ariadna Eriksen and Megan Condes won the state partner stunt championship.
For Huerta it was his second national title in the partner stunt competition.
In addition, the NHS was the state champion of the Division 2 JV Show Cheer – the first time the school's junior varsity team won the state tournament.
Members of the junior varsity team, from left: Joscelyn Molina, Paulina Abril, Susan Woolfolk, Ana Laura Anguiano and Darlene Burruel.

Contributed photo

The competition practically happened that year, so teams had to record and submit their routines by February 19th. That night, the NHS hosted a Senior Night for the stunt and cheer team that was attended by their parents / guardians.
Seniors in 2021 included Kayla Barton, Megan Condes, Ariadna Eriksen, Oscar Huerta, Melanie Norzagaray, Carolina Verdugo, and Valerie Zepeda.
The Pink State Awards were announced on February 27th.
"We are very proud of our student athletes and the achievements they have made," said the school in a press release about the temporary cancellation of the winter sports season.
"Regardless, our student athletes and their coaches, Richelle Ainza and Carolyn 'Shortcake' Hernandez, have worked hard throughout the year showing their resilience and determination to get a great result," the school said.