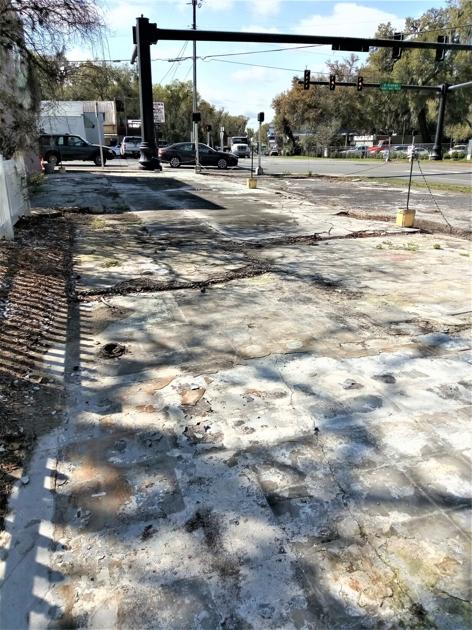 Floral City has taken on the mission of "bringing the floral design to Floral City" by expanding the vacant NE corner of US 41 and Orange Ave. They are replacing the standard street signs with antique signs along Orange Ave. in the national historic district.
Led by the joint planning, funding and work of the Floral City Garden Club (FFGC) and the Floral City Heritage Council (FCHC), the community will see "much-needed improvements".
The Garden Club has planted flower beds across downtown for the past forty years. A member of the FFGC and FCHC suggested that Floral City should consider adding flower sculptures.
Recently, more than three dozen large metal flowers have been purchased, painted, and prepared for placement in tall pots for placement downtown and at traffic lights in the US 41. These "flower pots" add a visual link to the city's name while adding ornate colors to the city center.
There are plans to outline the area in wooden timbers, provided at a discount by Lowe's manager Tim Graff, and cover the area in fine crushed stone donated by the Woody Company. You'll also add benches, flower sculptures, and a decorative water fountain.
Two anonymous donations and one donation from Duke Energy are funding the replacement of the county's standard street signs with antique posts and signs along ten intersecting streets on Orange Ave. New signposts will also be installed near the city center.
Some companies and individuals in the area have already signed up to cover the cost of the traffic light corner and the flower sculptures.
Additional donations can be made to the Floral City Heritage Council, P.O.Box 328, Floral City.