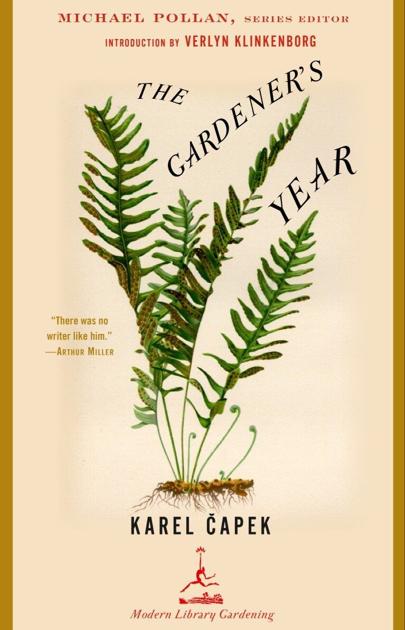 Summer readings are different. Winter is the time to read, research, take notes and learn. At the start of the gardening season, you are armed with a range of do's and don'ts. Try this out, rip that out and most importantly the mantra of wearing your hat and using sunscreen.
Summer days are always busy. In the late afternoon, it's time for an ice-cream drink and some reading in the shade. I have a few favorites that I revisit every summer, at least for a chapter here and there.
My favourite is "The Year of the Gardener" by Karel Capek. The book is a collection of ironic observations about all the things that can go wrong in the garden and what crazy gardeners are.
Capek (pronounced chop-uk) was 39 years old when he published the book in Prague in 1929. He was a Czech writer known internationally for his play RUR, which in 1921 introduced the word "robot" to the world.
Capek offered prayers that didn't even include a sacred request or a thankful thank you. He was pretty straight forward about what he asked: "that there is a lot of dew and little wind, enough worms, no plant lice and snails, no mildew, and that once a week thin manure and guano can fall from the sky. Amen."
The purpose of Michael Pollan, Author of "Second Nature: The Training of a Gardener" was not to teach gardening, but to help the reader understand the "troubled boundaries between nature and culture, our attitudes towards wilderness and animals". The book contains a whole range of gardening methods, but the main focus is on the philosophy of gardening. His writings on "the strange politics of the American lawn and the moral dimensions of the landscape" are particularly funny.
Pollan also wrote "Botany of Desire: A Plant Perspective of the World". Pollan associates four basic human desires – sweetness, beauty, poisoning, and control – with the plants that satisfy them: apple, tulip, marijuana, and potato. Pollan shows how plants evolved to satisfy the most basic human desires.
Amy Stewart is one of my favorite authors. Stewart writes for in her author's note "The Earth Moved: On the Remarkable Achievements of Earthworms" that she is not a scientist, but a gardener curious about earthworms.
Why do we never find a dead earthworm in the ground or in a worm container? Did you know that the Palouse area of ​​Washington state is home to the giant Palouse earthworm Driloleirus americanus? It has not been sighted for over 20 years. If you happen to see a pink and white earthworm two feet or more at full expansion that smells like lilies, take it to the nearest university for documentation. Your fame on the nightly news is guaranteed.
In 2009 Stewart received the American Horticultural Society Book Prize for "Wicked Plants: The Weeds That Killed Lincoln's Mother and Other Botanical Atrocities."
Stewart also wrote the bestseller "Wicked Bugs: The Louse That Conquered Napoleon's Army and Other Diabolical Insects". Both are quick and interesting reads.
On my list for this summer is Stewart's true story about Constance Kopp and her sister, the first women in law enforcement in 1914. Stewart's interest in the Kopp sisters has led to seven novels.
Elizabeth Gilbert, author of "Eat, Pray, Love" wrote an engaging novel about adventure and discovery called "The Signature of All Things". It is the story of a woman who was born in 1800 as the daughter of a botanical researcher. The story stretches from America to Tahiti. Alma's research leads her deep into the mysteries of evolution. The story takes many twists and turns when she falls in love with a man who draws her into the world of the spiritual and magical. I read the novel a few years ago and would read it a second time.
"Flight behavior" by Barbara Kingsolver was written in 2012 and was a bestseller. I only read it last year and am glad I waited. I don't think it would have had the same impact years ago – it seems more topical now as we realize that there is climate change and that we are more concerned with monarch butterflies.
Kingsolver has roots in Appalachian culture which makes the dialogue and philosophies more authentic. The main character Dellarobia is 27 years old, married to an unimaginative man, has two children and lives in a small house on the property of her in-laws. Life was pretty boring and dreary until hordes of monarchs were discovered who changed the small town life in many ways
Henry Mitchell's name would be more familiar to you if you were from the east coast. Mitchell wrote under his column "Earthman" every Thursday for the Washington Post for many years. He is considered the best garden writer in America and an essayist.
The monthly content may not be entirely relevant to our climate, but its words and thoughts are inspiring. Mitchell died in 1993 when a collection of his writings was published in Henry Mitchell on Gardening.
Ciscoe Morris is a highly respected horticulturalist and public speaker in the Pacific Northwest. "OH LA LA!" is an entertaining, humorous depiction of his 45 years of gardening, which also included serving as head gardener at Seattle University. He writes about familiar topics: deer, moles, birds, rats and the secret life of insects.
So much to read, so little time. Hopefully you find these brief reviews enticing enough to turn your devices off and spend time with the written word in the shade of your favorite tree.