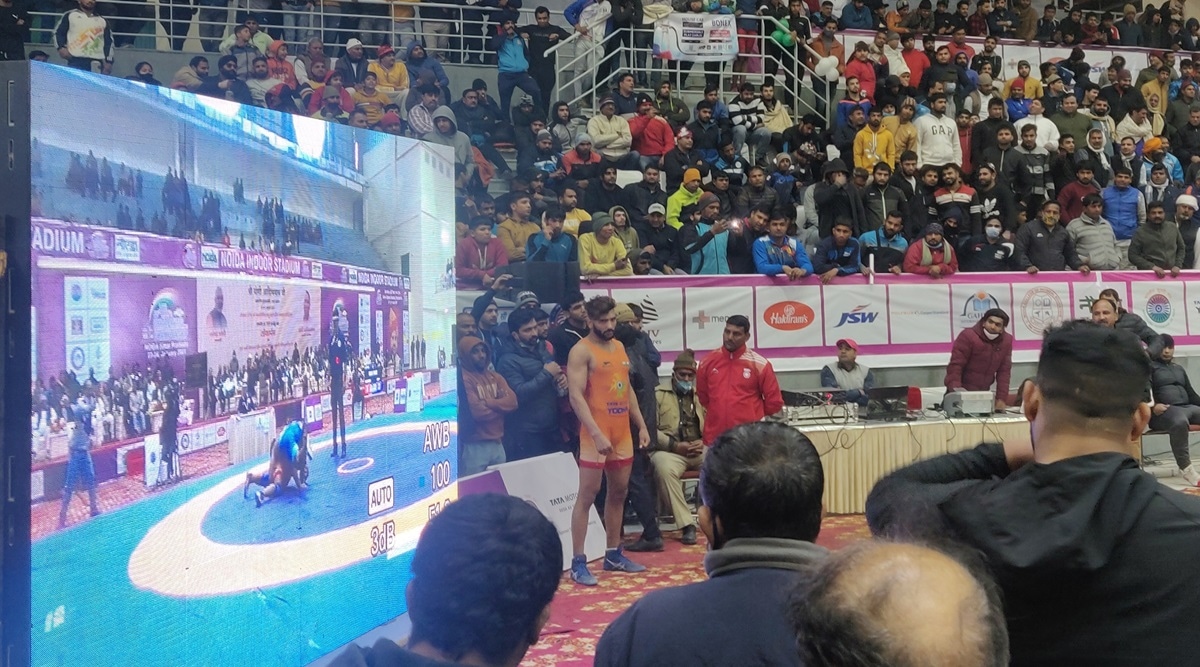 Rohit Singh admits that he was not meant to be a wrestler. It was because of his brother's misfortune, his father's desire and desperation to earn a living that led him to an Akhara.
On Sunday Rohit was crowned national champion in the 65kg category, one of the toughest weight classes in India. Representing Haryana, he made a dramatic comeback against Shravan of the Services Sports Control Board in the last three minutes of the final, wiping out a seven-point deficit to win 12-8.
Rohit impressed the national coaching team with his speed and temperament, but improving those qualities – and winning a national title – was never his ambition or interest. Instead, as an 11-year-old, he was just happy to be in the company of his older brother, an aspiring wrestler, and to cook Roti Sabzi for him. In his spare time, Rohit helped his father, a cattle herder, by taking the cattle for grazing.
"But one day my brother was injured. I cooked his food and when I saw his condition it was clear that he couldn't fight any more, "says Rohit, 19.
For a family of nine – Rohit is the sixth of seven brothers – the income from raising animals was not enough to run the household. "So I went to a wrestling school mainly out of compulsion," he says.
"I was relieved when he made this decision," says Rohit's father Dalel Singh.
Dalel did not impose a decision on his sons, but he was sure of one thing – none of them would be herdsmen. "There's so much cattle theft these days … too much headache," he says. On the advice of a local wrestler, Bholu Pehelwan, he introduced all of his sons to wrestling.
In Haryana, the respect that even a halfway decent wrestler demands is the reason why many are drawn to the sport in the first place. Rohit had witnessed this firsthand with his brother but also realized the need for money to sustain a career in wrestling.
So he started attending dangals all over Haryana which had cash rewards of only 50 rupees. For almost a year he crossed Haryana and traveled as far as Kolhapur in Maharashtra, where the prize money was slightly higher, in order to earn a living. "But I struggled to make money attending Dangals. I couldn't beat the main cast to make enough money, "he says. "In 2015 I turned to Olympic wrestling."
Success on the mat was relatively easy. "He has good speed which is helpful in mat wrestling and has developed a good technique over the years, particularly starting leg attacks, an essential element in freestyle wrestling," said former Indian trainer Kuldeep Singh, who is Rohit for the Navy recruited wrestling team says.
He became a national cadet champion before winning the junior crown and eventually the senior title.
Rohit's win in 65 kg opens an interesting race for the future. Currently the weight class is dominated by India's best freestyler Bajrang Punia, a multiple world and Asian medalist.
After Bajrang had already won a quota for the Olympic Games in Tokyo, he was exempted from the national championship this weekend. He is now in Michigan, USA, preparing for the Games. On Sunday, college sports activity in the American state was suspended following a Covid-19 outbreak, but Bajrang was able to continue training.
In Bajrang's absence, the audition to find his replacement took place in Noida, where Rohit appeared at the top. "In recent years, Rohit has dominated this weight class in all age groups. He has proven his potential by winning the senior championship, "says Kuldeep, also the Navy trainer.
Bajrang to challenge a place in the national team has not occurred to Rohit at the moment. "He (Bajrang) is a world medalist. a very great wrestler. And I've just won a national title, "he says. "I'll take one step at a time and see where fate leads me."
The SAI requests a report from the WFI
The Indian Sports Authority on Sunday asked the Wrestling Federation of India for a report on the violation of Covid-19 protocols held on the first day of the national championships on Saturday.
The SAI said in a statement: "We took up the matter with the Wrestling Federation of India and impressed them that the SOP for competitions must be strictly adhered to. We have also requested a Federation report on the alleged violation by Monday. The association ensured compliance with the protocol. "
The situation on Sunday was only slightly better. While no one except wrestlers were allowed to enter the field, there was no distance in the stands, where hundreds of spectators, most of them without a mask, sat in close proximity.